Stud Dogs:
Tallgrass Pistol Pete "Pete"
Pete, born Oct 2008, is from an outcross breeding between Amazing Ace and Taran's Tallgrass Samie. Ace is an excellent bird dog that did it all at an early age, He is line bred to Springset Ice Hot with a Coefficient of Inbreeding (COI) of 22. Samie has earned her AKC Junior Hunter title and a NAVHDA Natural Ability Prize III, she is a biddable bird finding machine. Pete has a low COI, lot of style, point, desire, good colors, tight feet, good teeth, close straight field coat, nice high tail set. Pete is independent enough to range 200 to 400 yards, but still biddable, always keeping an eye out on my whereabouts. His hips have been scored by OFA and rated "Good" And Penn Hip rates him as better than 90% of the other Gordon Setters scored. As a young dog he was naturally staunch on point, waiting until the bird is flushed by the handler, producing birds for the gun early in life. He weighs 58 lbs +/-. His previous litters have produced puppies that are good companions, started young, shown lots of style on point and have lots of desire to find birds. Contact me if you're interested in Stud service.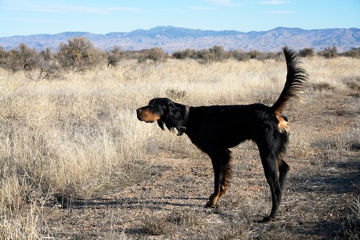 Pete's Pedigree
'03 NFC / FC / AFC Gunsmoke Rising

Clearcut Trapshooter

Falcons To the Extreme

Ace

NAFC FC AFC Ice Hot's Cobb

LeSueur River Vera

Chaparral BangZ Rip Roarin'

Tallgrass Pistol Pete, OFA"Good",

Lord Bo of Courtly

Lord Cole of Huntly, OFA "Good"

Wild River Chase

Taran's Tallgrass Samie, NA III, JH, OFA "Good"

Up North Tara's Jet

Taran's Bela Star, OFA Good

Up North Sky
ACE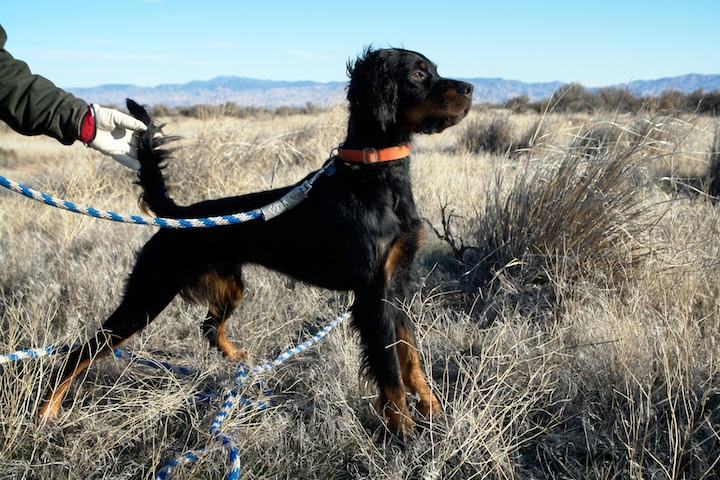 Ace was bred by LeSueur River Kennels in Minnesota and is owned by a gentleman in Middleton Idaho. Ace is an excellent hunting dog that does it with style and is a natural. He started producing birds for the gun early and took to his work with no formal training. He points, has a natural back and holds his birds until flushed. Ace is line bred back to Springset Ice Hot, with a Coefficient of Inbreeding (COI) at 22%. He throws puppies with style, nice heads and dogs that are well put together. Tallgrass Pistol Pete is a son of Ace, see his picture elsewhere in this site. The owners name is Fred and he can be reached at 208-871-3122.
Ace's Pedigree
Springset Ice Hot

NAFC FC AFC Gunsmoke Rising

TNT Busy Lizzie

Trapshooter

FC AFC Falcon Jeb

Falcon to the Extreme

Falcon Knight Jordon

Amazing Ace

Springset Ice Hot

NAFC FC AFC Ice Hots Cobb

TNT Busy Lizzie

Lesueur River Vera

FC First National MH

Chaparral BangZ Rip Roarin

Chaparral Zayna SH
Click here to email us at loy_98@msn.com