Puppy Co-Op:
Tallgrass Gordon Setters is a part of a loosely knit co-op.  There are 3 other people including another Gordon Setter breeder, Breezwood Gordons, in the local area that have Gordon Setters.  Together we have 12 or more dogs.  We collaborate on breeding strategies, dog and puppy care, share stud dogs and replace breeding females with puppies from each others litters.   I will upload information on future and current litters to this website for all breeders in the Co-op.
Puppy Development and Socializing:
I use the "Super Puppy Program" from day 3 to day 16 to give my puppies a head start in life.  The program is designed to stimulate several brain functions which is said to give the puppies a better ability to handle stress into adulthood.
My daughter is also instrumental in socializing the puppies.  They are played with by myself and Katelyn everyday.  The puppies are allowed to roam the yard and relate with the other animals that we have.  I believe this interaction teaches the puppies the pack mentality which leads to respecting other animals and knowing their "place".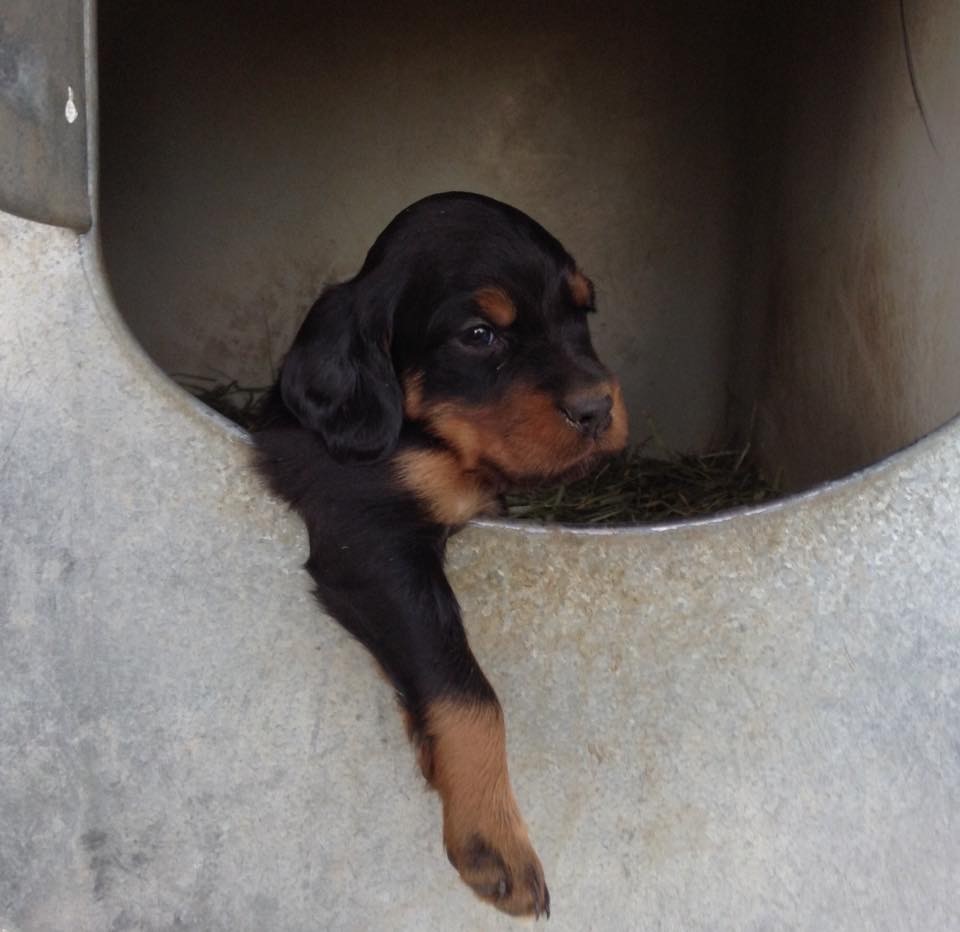 Puppy Agreement:
All puppies will have their dew claws removed, will be current on shots and wormed before they are placed in their new homes.  I suggest that the pups stay here until they are at least 8 weeks old.  All puppies will be raised in the house with all the associated noises, socialized extensively, introduced to feathers, birds and water.  It's recommended that you visit your vet within a week of bringing the puppy home to put him on a schedule to complete the vaccines.   Pups are guaranteed against any hereditary problems. Should such a problem occur the buyer is entitled to a choice of either a replacement pup or a full refund of the purchase price with the return of the puppy.
To reserve a pup, provide your name and phone number and I will contact you when the next litter "Hits" the ground. I will then call all of the people on the list and let them know how many puppies there are and if they still want a pup where to send their deposit. You should specify the sex of the pup you wish to reserve at the time I call to inform you of the litter. I will attempt to call twice and if I receive no return call with 24 hrs on the 2nd call I will assume you do not want a puppy. Your place in line will be determined by order of placement on the original list of interested puppy buyers. Some litters everyone on the list sends in a deposit while other litters have a few folks that back out. I stress this – I determine to raise a litter based on the number of folks that have contacted me so when people do back out it causes problems for me. Please be sure that you want a pup before you provide your name and contact info. Puppy buyers coming to our home should plan to pick up their pup at 8 weeks of age.
Will I ship a puppy?  I will agree to ship a puppy only on direct flights, no layovers or plane changes. For puppies to be shipped, funds must be received prior to the shipping.  The buyer makes the arrangements and coordinates with me on a mutually agreeable date and time for me to drop the puppy off at the shipper.  Health Certificates and airline crates are extra costs.
Which puppy will you get?   Generally I choose the puppies for the buyers since most will not be able to pick up their puppy in any order.  I also get to know the pups better than anyone, I have the best idea of what their personalities are like. I'll ask you what you're looking for and I'll try to pick a pup for you that will meet your expectations.  On special occasions I may be able to let you come a pick out a pup from the litter or remaining puppies, but that does not happen often.
Call, text, or email if you have any questions.